A Q&A with Student Maid CEO Kristen Hadeed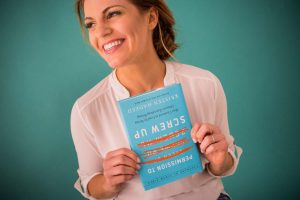 Over the summer, we had the opportunity to reach out to
Student Maid
CEO Kristen Hadeed and do a Q&A with her. A successful entrepreneur, author, and speaker, Kristen's answers cover topics such as what she looks for when hiring college students and tips for college students interested in becoming entrepreneurs. To learn more about Kristen, we recommend checking
out her website
and watching this
video
detailing her most defining leadership moment.
1) If you were a college professor teaching a course on Resiliency, what would the course description be? 
Great question! I think it would be something like this:
What do you do when 75% of your team walks out on you at the same time? Or when your right-hand leader tells you she's resigning? Or when you realize a branch of your company is struggling big time?
I've been faced with these challenges and so many more during my career as the CEO of a small business. Each time, I knew that when it came down to it, I had just two options: I could quit and give up on everything I'd worked for, or I could push myself to find the solution that would allow me to get through these huge setbacks so I could continue to build my dream.
Your biggest mistakes can be your best teachers—if you let them. In my career as a leader, speaker, and author, I've learned that when it comes to getting where you want to go in life, there's no skill more important than resiliency. In this course, I will share with you how I learned to be resilient, and I will help you change your perspective on the role failure has played in your life. You will learn tools that will help you look at future challenges as learning opportunities instead of roadblocks, and you will leave this course ready to tackle whatever comes your way.
2) As you review college students as new hires, how much value do you put on soft-skills and out of classroom leadership/volunteerism?
When we interview job candidates, one of the main things we look for is people's desire to invest in themselves. At Student Maid, we're all about learning and growing, so it's crucial that the people who join our team are willing to invest in their own growth as much as we're willing to invest in it. So if someone has a history of volunteerism and leadership—at any level—it shows that they are willing to invest in themselves and push themselves to learn new things, which is a great sign. But that kind of experience is not a requirement for the job. Soft skills, such as communication and relationship-building, are things we teach at Student Maid, so it's not necessary that someone already knows those things when they join our team. We just want them to show us that they're ready and willing to learn!
3) How were your leadership tactics affected when you suddenly had to increase your workforce?
If you've read my book, Permission To Screw Up, you already know the answer: Let's just say it wasn't great! In the beginning, I had no idea how to lead a team, let alone a big one. I did what I'd seen bosses in movies do: I stayed in one place and put my feet up while my team did the work. I was rewarded for that move by 75% of my team quitting on me at once. ​Ouch.
But for so many reasons, I'm glad that happened to me. I learned so much from that day—most of which I didn't even realize until much later. I ended up convincing every single one of those people to come back, and I did it by admitting that I had no idea what I was doing. Then, I jumped in the trenches and worked alongside them. I earned their respect by bringing my humanity to work and proving that I in no way believed I was too good to do the things I was asking them to do.
That was 10 years ago, but we still strive to maintain that level of humanity and vulnerability in our company, and it's a big part of why people choose to stay and work at Student Maid. I encourage our executive team to lead with compassion and understanding, and they, in turn, do the same for our Ambassador Team, which is a group of about eight students that runs the essential functions of our business in Gainesville. The students hire, train, invoice—you name it. Now that we have these Ambassadors, the executive team is mainly there to coach, guide, and help the students learn by doing. We want our students to get as much hands-on experience as possible, which means handling the hard stuff and figuring out how to bounce back from their mistakes on their own—with guidance, of course. We don't leave anyone without a safety net, but we also know that coming to someone's rescue every time they fail won't help them learn.
4) How did you gain commitment from a large group of college students with busy schedules?
It's not easy to get people to sign up to clean toilets, let me tell you! Who would want to clean when you could get a much less physically demanding job and, in many cases, make more money? The reason people commit to Student Maid is our culture. People don't just get a job when they work with us; they get a support network. They get a promise that we'll work around their school schedules because we know how important their education is to them. They get a leadership team that doesn't just want warm bodies; we want to invest in their potential as future leaders. I truly believe that leaders should treat people like human beings and allow them to bring their humanity to work. And if you do that, you will naturally attract people who are willing to make long-term commitments to your organization.
5) What advice would you give to college students who have entrepreneurial aspirations?
Read, read, read! I used to spend my Friday evenings in the bookstore, reading anything and everything I could about business and leadership. I found my early mentors in books, and because I was well-read, I was able to find real mentors later. They were people I met who were impressed with how much I knew about business, and they wanted to help me because they knew I was serious about learning and growth. I even took a speed reading class so I could read a few books in one setting. To this day, reading is a huge part of my life. I am a big Audible fan, and I'm always listening to something. It's important to keep learning and growing. Unfortunately, so many people fail to do this and it really inhibits their growth and narrows their perspectives.
Also, build your identity capital. Your twenties are your time for building "identity capital," which psychologist Meg Jay defines as ​the "investments we make in ourselves, the things we do well enough, or long enough, that they become a part of who we are​." You can build identity capital anywhere at any kind of job. And you actually build more of it when you start at the bottom and work your way up. The more you have, the more opportunities you will have later in your life.