University of Texas at Austin
Chapter Officers
Nicholas Casseb - President
Yea Ji Lee - Vice President
Kaelyn Lane - Treasurer
Austen Jones - VP Membership
Ji Yae Lee - Historian

Contact your chapter here
Chapter Support Representative - Denise Feikema
Leadership Opportunities
The most engaging and active leadership roles are filling the role of a Chapter officer. This is an opportunity to develop hands on experience in communication, project planning & execution, team building, and time management. Elections occur once per year, typically in early spring. Click here to read a brief description of each officer position.
Scholarship and Award Recipients from this Chapter
Mary OBrien - Path to Excellence Award, 2011
Meredith Welch - Emerging Leaders Scholarship, 2010
Chapter Highlights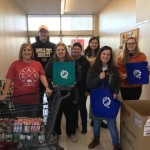 2018 Food Fight Against Hunger
2018's Food Fight Against Hunger event has come to a close, and we're proud of all the work that members accomplished!
Read More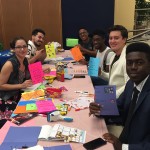 Holiday Cards!
This season a common service idea was to send cards to people who may need an extra pick-me-up. This is a great service project because it is easy, inexpensive, and truly appreciated by the recipients.
Read More