University of Mississippi
Chapter Officers
Reba Chamblee - President
Cole Durrett - Vice President
Rebecca Stewart - Secretary
Stephen Cox - Treasurer
Kaylei Burcham - VP Academic Achievement
Cara Wittig - VP Leadership Development
Samantha Henderson - VP Membership
Haleigh Tieken - VP Public Relations

Contact your chapter here
Chapter Support Representative - Denise Feikema
Leadership Opportunities
The most engaging and active leadership roles are filling the role of a Chapter officer. This is an opportunity to develop hands on experience in communication, project planning & execution, team building, and time management. Elections occur once per year, typically in early spring. Click here to read a brief description of each officer position.
Scholarship and Award Recipients from this Chapter
Samantha Henderson - New Member Award, 2017
Sydney Rubin - New Member Award, 2015
Catherine Pena - New Member Award, 2013
Shacorya Williams - Path to Excellence Award, 2012
Joanna Martin - Emerging Leaders Scholarship, 2010
Megan Leigh Glorioso - Path to Excellence Award, 2008
Chapter Highlights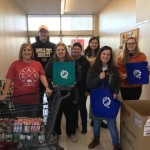 2018 Food Fight Against Hunger
2018's Food Fight Against Hunger event has come to a close, and we're proud of all the work that members accomplished!
Read More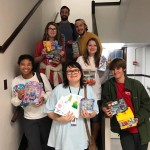 University of Mississippi
Toy Drive University of Mississippi's SAL chapter donated over $500 dollars worth of toys to foster children in North Mississippi over the holiday season! To begin their toy drive,
Read More