Old Dominion University
Chapter Officers
Sade Williams - President
Kevin Wooleyhan - Vice President
Ariyana Canty - Secretary
Sharon Lawrence - Treasurer
Nichole Davies-Murray - VP Community Service
Camhuong Le - VP Academic Achievement

Contact your chapter here
Chapter Support Representative - Denise Feikema
Leadership Opportunities
The most engaging and active leadership roles are filling the role of a Chapter officer. This is an opportunity to develop hands on experience in communication, project planning & execution, team building, and time management. Elections occur once per year, typically in early spring. Click here to read a brief description of each officer position.
Scholarship and Award Recipients from this Chapter
Sade Williams - New Member Award, 2018
Camhuong Le - Path to Excellence Award, 2017
Terri Williams - New Member Award, 2017
Jacklyn Rankin - Chapter Leadership Award, 2017
Rebecca Schultz - Founding Officer Award & New Member Award, 2010
Chapter Highlights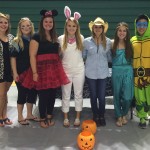 Fall & Halloween Events!
On behalf of the fall and Halloween season we wanted to bring you a special highlight. So many chapters have participated in such great Halloween/Fall themed activities and we want to share them with everyone!
Read More